Aviation Sub-Sector
1) Maintaining a Hangar. Existing hangar owned by the airline needs refurbishment and modern equipment;
2) Aircraft Engine Workshop – A workshop that can effect A, B, C, & D checks on various grades of aircrafts used in the Country and in the West African sub-region;
3) Development and management of a five-star hotel in Lagos.

4) Provision of catering equipment and infrastructure to meet the needs of the airline industry;
5) Establishment of a modern aircraft training facility;
6) Development/construction of airport terminals.
Maritime Sub-Sector
1) Liner Services – Foreign Shipping Companies can engage in the provision of Liner Services through joint sailing agreement with Nigerian shipping companies;
2) Cabotage – Government encourages joint ventures in the ownership and operation of light vessels between ports, which must be fully registered in Nigeria;
3) Ship Acquisition and Ship Building Fund/Lifting of Crude Oil and Gas;
4) Pollution Control in the Oil Producing Coastal Regions
5) Search and Rescue – provision of equipment to meet various requirements;
6) Training /Technical Assistance;
7) Tanker Trade – joint venture with Nigerians in the exportation of Nigerian crude oil;
8) Proposed Nigerian Maritime Consultancy Centre – this will cover the following:
a)Marine engineering spare parts supplies;
b)Ships and Port management;
c)Ships, Ports and boat supplies;
d)Seaports, oil terminals and ship communication equipment;
e)Seaports and ships educational material;
f) Combined maritime publications.
Railway
There is need for modernization of the Nigerian Railway System which is still based on the prevailing technology at its inception early in the century, that is the 3″ – 6″ (1067mm) guage. These include:
1) Conversion of wagon bearings to roller bearings;
2) Conversion of train braking system from vacuum to air;
3) Conversion of AB coupler to more effective system;
4) Modernisation of track maintenance;
5) Improvement of ticketing system;
6) Manpower development and training.
Road Transport
Provision of:
1) modern buses equipped with communication system;
2) trams to facilitate passenger movement in both rural and urban areas;
3) suitable haulage trucks for goods and services;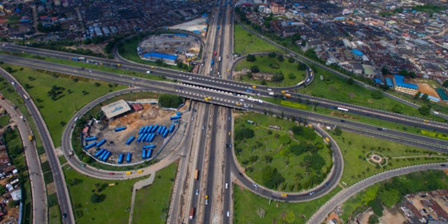 4) service facilities at the terminals on both the highways and destinations;
5) collection of tolls for the use of the service facilities provided to help sustain the system;
6) computerization of services to enhance efficiency and control of operations;
7) commercialization of terminal facilities;
8) central terminals in various urban and rural locations in the country with service facilities.
National Inland Waterways
1) Dredging of the River Niger; 2) Rehabilitation of Warri and Lokoja Dockyards, operational vessels, pollution control, etc; 3) Study and Development of River Benue System for all year round navigation; 4) Dredging of Oguta Lake for effective navigation with larger vessels.
Free Port Zones
The establishment of the Onne Free Port Zone makes Nigeria the focal point for the oil and gas industry in West Africa. It provides incentives such as, easy registration in the Nigerian oil and gas market – drilling, construction, pipe coating, ship repair, etc, minimum bureaucracy, free corporate tax, import and export duties exemption for goods within the zone, 100% foreign repatriation of capital and profit, 100% foreign ownership, free pre-shipment inspection for imported goods, free expatriate quota and the possibility to sell products and services in the West African sub-region.
It also offers excellent business opportunities to investors wishing to participate in both planned and existing projects that require huge investment – the Bonny Terminal, Eleme Petrochemical complex (NNPC), fertilizer plant (NAFCON), aluminum smelter plant (ALSCON) and the West African Gas Pipeline (Escravos – Ghana).
Proposed Terminals
1) Bulk Cargo Terminal – major bulk commodities such as coal, sugar, petroleum, grain, ore and bauxite, can be handled here.
2) Onne Self-Run Transit Terminal – this will accommodate a container terminal, a RORO terminal and a center with trans-shipment facilities for the West African sub region and neighbouring land-locked countries.
3) Lagos Specialised Trans-Shipment Terminal – this will provide a break away from the usually congested Apapa and Tin Can Island ports, serving both the manufacturing and trading sectors.
CONTACT ADDRESSES
Airways House
Murtala Mohammed Airport
Ikeja, Lagos
Tel: 234-(1)-493-7464, 497-0872/3
e-mail: wt-md@skypower-ng.com
Federal Airports Authority of Nigeria
Murtala Mohammed International Airport
P.M.B. 21607
Ikeja, Lagos
Tel: 234 (1) 496-8080, 496-8084
Nigeria Civil Aviation Authority
Aviation House (Domestic Wing) Ikeja Airport
P.M.B. 21029, 21038
Ikeja, Lagos
Tel: 234 (1) 493-0030, 470-8951, 493-0026
Nigerian Airspace Management Agency
Murtala Mohammed International Airport
Domestic Wing
P.M.B. 21084
Ikeja, Lagos
Tel: 234 (1) 470-8956 Fax: 234 (1) 497-0870
e-mail: iidrisu@nama.com
Nigerian College of Aviation Technology
P.M.B. 1039
Zaria
Tel: 234 (69) 322-021/2, 330-233; Fax: 234 (69) 334-756/869
Federal Ministry of Aviation
Federal Secretariat
Abuja
Tel: 234 (9) 523-2053, 523-9101, 523-2112
National Maritime Authority
4, Burma Road
Apapa, Lagos
Office of the Director-General
Tel: 234 (1) 587-1673, 580-4800-4
Fax: 234 (1) 545-0722
e-mail: dgnma@Nigeria-maritime.com
Web-site: www.Nigeria-maritime.com
Office of the Director (Commercial & Operations Department)
Tel: 234 (1) 587-2068, 580-4800
Fax: 234 (1) 587-0477
e-mail: docnma@Nigeria-maritime.com
Federal Ministry of Transport
Annex 3, New Federal Secretariat Complex
Shehu Shagari Way
Abuja
Tel: 234 (9) 523-7051 – 3
Nigerian Ports Authority (NPA)
Tofa House, Plat 770
Central Business District Area,
Wuse, Abuja
Tel: 234 (9) 523-7140-4
Fax: 234(9) 523-7143
Nigerian Railway Corporation (NRC)
Yellow House, Plot 739
Off Ibrahim Babangida Avenue
Maitama District
P.M.B. 5016, Abuja
Tel: 234 (9) 523-1912/3
Nigerdock Nigeria, plc
C/o Federal Ministry of Transport
2nd Floor, Annex 3, Federal Secretariat,
P.M.B. 1136,
Abuja
Nigeria Shippers' Council
51, Usuma Street, Maitama District
P.M.B. 296, Garki
Abuja
Tel: 234 (9) 523-0653
National Inland Waterways Authority
Lokoja, Kogi State
Maritime Academy of Nigeria
Oron, Akwa-Ibom State